We are proud to announce that Attorney Adam Williams and the Williams and Jorden Law Firm have been nominated for the Erie Reader's Best of Erie 2020 Awards.
Adam Williams is up for the Best Erie Lawyer and the Williams and Jorden Law Firm has been nominated for the Best Erie Law Firm. We are honored to have been considered some of the absolute best that Erie, PA has to offer and will continue to work hard to ensure that we live up to those expectations.
You can cast your vote today by visiting https://bestof.eriereader.com/.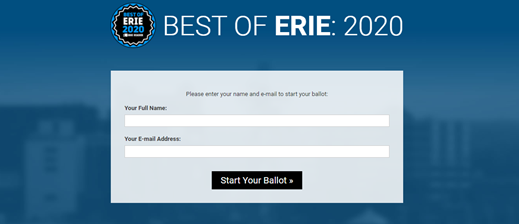 Once you have entered your name and e-mail address you will be sent an email containing your live ballot. Then you click on the link and it will take you to your online ballot. The ballot should only take a few moments to fill out and could really make a difference in getting the word out there about many of Erie's wonderful small businesses.
Cast Your Vote today and don't forget to vote for Best Lawyer and Best Law Firm!